Oakland
Suffrage Parade

Come join the upcoming suffrage parade in Oakland, celebrating the centennial victory! Participation is free and your presence will highlight the prominent role women have attained in our democracy!

Find Oakland Suffrage Parade
on Facebook ®

The Day of the Parade
On October 2, 2011, an estimated 250 participants representing at least 10 organizations gathered at the Lake Merritt Bandstand for the day's events.

View parade video produced by Oakland Suffrage Parade Committee:

View video of parade highlights from Oakland North: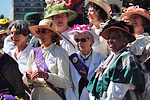 View "slide show" of parade photos by Ken Katz>

View the parade program>


Read San Francisco Chronicle Article
Oakland march marks 100 years of women voting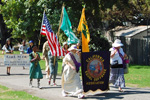 View more photos of the parade>
Oakland Suffrage Parade in the News

Oakland celebrates 100 years of women's voting rights with suffrage parade reenactment at Lakeside Park October 4, 2011, Oakland North blog


Oakland march marks 100 years of women voting October 2, 2011, San Francisco Chronicle


Celebrate 100 Years of Suffrage on Sunday September 30, 2011, A Better Oakland blog


Celebrating the Women's Vote: Oakland Holds Suffrage Parade September 30, 2011, newsFix - KQED's Bay Area news blog
Parade Details


October 2, 2011 - 11 am to 1 pm


Lakeside Park Bandstand


We invite you to participate in the parade.
We will meet at the Bandstand at Lakeside Park 11:00 AM Sunday morning. We will march up Grand Avenue in costumes (optional) and return to the Bandstand!


More details>
Oakland Parade History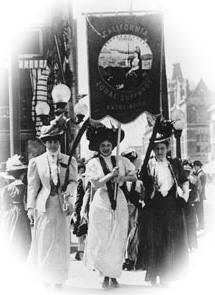 Why hold an Oakland parade? The first suffrage parade in all of California took place in Oakland on August 23, 1908. The Republican Convention was held at Ebell Hall, and a number of suffrage groups decided to march to the Convention from the Oakland Hotel in hopes of getting a suffrage plank on the Republican platform. This parade of over 300 women re-energized the suffrage movement which led to the successful passage of the suffrage referendum in 1911.
The women of the 1908 parade are seen at left.
Thanks for Supporting the Parade!

Thank you to all who contributed to help meet the parade costs for facility rental, permits, and services mandated by the City of Oakland. Thanks as well to the Alameda County Historical Society, who served as our fiscal agent.


Ice Cream Social Followed the Parade

Following brief after-parade speeches, ice cream was served for those who marched. The ice cream social is generously supported Oakland's own Fentons Creamery and Assemblymember Nancy Skinner of the 14th Assembly District.


Montclair Women's Big Band Played at Parade
As the parade drew to a close at the Bandstand, musicians from the Montclair Women's Big Band warmed our hearts with exciting entertainment.


Parade sashes were available for purchase to highlight participation in the march. Wearing this purple and gold CA Woman Suffrage Centennial Sash is the perfect way to celebrate the 100th Anniversary of California women winning the right to vote. View enlarged image of sash.
Purple, White and Gold make up the suffrage colors. Purple represents freedom and dignity, White stands for purity in public life and Gold goes back to the Kansas campaign for suffrage in 1887 (women won municipal suffrage) and represents the state flower – the sunflower.
Parade Banner Posted at Oakland City Hall
This banner, encouraging citizens to celebrate the centennial by joining the parade, was mounted over the entrance to Oakland's City Hall during the week before the parade:
Replica of 1908 Parade Banner Carried
Marchers in the October 2, 2011 parade carried this replica of the banner carried by the women of the 1908 Oakland parade: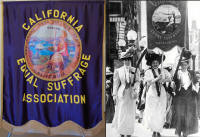 Other Local Suffrage-Related Events

Aug 22 - Dec 16, 2011 A Centennial Celebration: California Women and the Vote
an exhibition at the Bancroft Library, Berkeley

September 11, 2011 Berkeley Historical Society Suffrage Parade


at the Solano Stroll in Berkeley.

Sep 18, 2011 - March 30, 2012 Berkeley Women Vote: Celebrating California Suffrage
an exhibition at the Berkeley History Center, Berkeley.


Sep 20, 2011 - Suffrage Parade Recognized. Oakland City Council approved a recommendation to adopt a resolution recognizing the 100th Anniversary of Women's Suffrage in Califomia and encouraging all residents to join in the Suffrage Parade on Sunday, October 2nd at 11:00am at Lake Merritt.


Sep 20, 2011 - 100th anniversary of women's suffrage in California recognized. The Alameda County Board of Supervisors adopted a commendation recognizing the 100th Anniversary of Women's Suffrage in Califomia and encouraging all residents to join in its celebration.

October 1, 2011 Parlors & Politics: A Celebration of Women's Suffrage in California


at three historic houses in Oakland.

About the Oakland Suffrage Parade Committee
Volunteer women from a group of local organizations are working to organize the parade.
Participating Organizations:
This Centennial Celebration of Women's Right to Vote in California has been supported by many organizations, and you may wish to be come involved with them because they reflect your own values, view points and objectives for our community. Follow the links below to visit their web sites where you can learn more and become a member:


American Association of University Women


League of Women Voters of Oakland


National Women's History Project
Read the NWHP Newsletter announcement (pdf) about the Oakland Suffrage Parade


Coalition of Labor Union Women


American Civil Liberties Union


Girl Scouts of the USA


Cinnamon Girl


Emerge California


Piedmont Area Republican Women


Diablo Valley Women's Studies Program


and the Mayor of Oakland and women of Oakland City Council.
For more information:
510-834-7640 (League of Women Voters of Oakland)
or


Find Oakland Suffrage Parade on Facebook ®

back