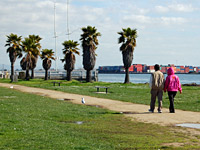 This sizeable park is situated on the Estuary at the mouth of the channel exiting Lake Merritt. Much of the space is devoted to an athletic field. Note that the City of Oakland Office of Parks and Recreation requires a permit for use of the athletic field; for permits, call 238-4718. The park is home to the Jack London Aquatic Center, a facility that provides rowing programs for the region's youth and adults. The Bay Trail runs along the shoreline of the park.
Parking
There are two parking areas for the park: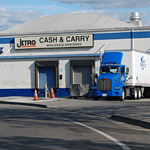 1. The entrance to main parking, at the Jack London Aquatic Center, is well marked, and it leads to a large parking lot fronting on the Lake Merritt Channel.
2. By contrast, the athletic field portion of the park and its parking lot are set back from the Embarcadero. To park near the field, turn in at the driveway of the former Jetro Cash & Carry Warehouse, shown at right and proceed west.
Park amenities
Jack London Aquatic Center; related views of rowing activity;

boat launch ramp and fish cleaning station;

terraced steps to the waterfront;

wide pier jutting into the estuary;

a large, rough open athletic field;

trail connections to the Bay Trail going north.
Park Features and Views

Click thumbnails for larger view:

Views of the estuary and Alameda shore.


Terraced steps to the water and pier.

Shoreline art.


Youth in action at Jack London Aquatic Center



Bay trail segment leading north from the park.

top^