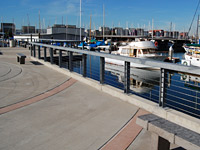 This strip park extends along the shoreline along portions of Fortman and Grand Marinas, on the Alameda side of the Estuary. The southern section of the park is new, and offers great opportunities to watch marina activities, ducks, and other waterfowl. A trail leads through the park from the Alameda Yacht Club to the open lawn, and then continues along the public shore around Grand Marina.
Due to its secluded location, the park must be sought out by visitors:
This small park offers
appealing views of the marina and waterfowl;

pedestrian paths which connect to a trail leading south;

a children's play yard with play structures;

frequent benches and picnic tables;

an open lawn;

nearby parking.
Park Features and Views

Click thumbnails for larger view:

Paths along the shoreline, with views of the marina waterfowl.

Play structures, picnic benches, and open lawn.

Public shoreline trail leading north-east from the lawn and along the Grand Marina deck.
top^