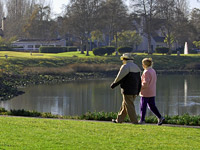 This short parkway strip extends along the waterfront just off Marina Village Parkway in Alameda, opposite the mouth of the Lake Merritt Channel. A section of the Bay Trail runs along the water and offers great views of the estuary, opposite shore, and downtown Oakland. Linked by a Bay Trail segment, nearby to the east is a small waterfront greenway in front of Wind River Systems.
The park is located on the Estuary and may be accessed from the Marina Village Plaza or the Pacific Marina:
This quiet and somewhat hidden park offers engaging opportunities including:
appealing views of the marina and estuary;

expansive lawns;

pedestrian and bike paths which are part of the Bay Trail.

a par course; and

nearby parking and commercial establishments;
Park Features and Views

Click thumbnails for larger view:


Expansive lawns, paths, and broad views of the marina and Oakland skyline.
A broad waterfront promenade in front of the Marina Village Plaza.
top^