Union Point Park is an exciting new nine-acre waterfront venue located near Coast Guard Island, just south of the Embarcadero area shoreline. The park offers waterfront access, park activities, and attractive open space in an area of Oakland that has lacked such opportunities. It is owned and operated by the City of Oakland.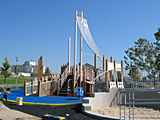 Union Point Park reflects the vision and collective efforts of a broad range of community groups, agencies, and individuals including the Unity Council, the Trust for Public Land, the Coastal Conservancy, the City of Oakland, the Port of Oakland, the University Oakland Metropolitan Forum, PGA Design, and Mario Schjetnan of Grupo de Diseno Urbano.
The park is located at 2311 Embarcadero East between Dennison & Kennedy Streets: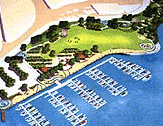 The park adjoins Union Point Marina and offers a wide range of engaging opportunities including:
enticing views of the marina and estuary;

picnic and barbeque facilities - these may be reserved by calling (510) 238-3187;

parking, restrooms, and water fountains;

expansive lawns and gardens;

spectacular landscape architecture and features;

children's play structures with a marine theme; and

pedestrian and bike paths, some of which are part of the Bay Trail.
Park Reservations

The park is owned and operated by the City of Oakland. Park space and facilities can be reserved by calling City of Oakland Parks and Recreation Department at (510) 238-3187. Waterfront Action cannot make reservations for you.
Park Grand Opening

The September 10, 2005 Grand Opening of the park was well-attended by the community and included children's activities, entertainment, and a formal dedication ceremony.



Click thumbnails for larger view:



Park Features and Views




Sweeping views of the estuary and Union Point Marina, together with a broad waterfront promenade...
Expansive lawns, picnic benches, and barbeque areas, inviting the public...



Imaginative children's
play structures with a
waterfront theme...
Spectacular landscape architecture and artistic elements...
top^