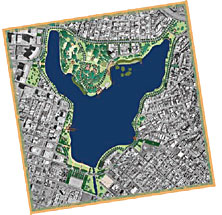 Background
Measure DD, the Oakland Trust for Clean Water and Safe Parks, was passed by Oakland citizens in 2002. It provides funding for a range of waterfront projects at Lake Merritt. The planning process is being shaped under the influence of the Measure DD Community Coalition, of which Waterfront Action is a member.
The Plan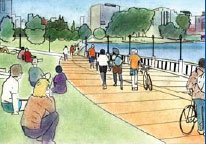 The plans are designed to restore the quality and accessibility of Lake Merritt and its amenities and are guided by the Lake Merritt Master Plan. Pedestrian access, improved water quality, expanded park space, and historic preservation, are all part of the design.
The plans include many projects focused on:
enhancements of park spaces around the lake, with expansion in several areas;

renovation of facilities including the Municipal Boathouse, Lakeside Park Sailboat House, and Children's Fairyland;

improvements in water quality and wildlife habitat;

interpretive signage and restoration guidelines designed to promote the historic character of the region;

significant enhancements of pedestrian and bicycle access and safety, including new multi-use pathways, seating, and dedicated jogging paths;

a major reconstruction of 12th Street at the south end of Lake Merritt to reduce the width of the road and allow construction of a new shoreline park area.
City of Oakland Public Works provides overview documents and plan drawings for areas along Lakeside Drive, 12th Street, and Lakeshore Ave.

Progress
The progress of specific projects is highlighted on Waterfront Action's Measure DD Progress Report, part of our Oakland-Alameda Public Access Map project.
Public Process
The Measure DD Community Coalition holds regular meetings that are open to anyone interested in finding out more about the Measure DD Bond implementation. Their website publishes the meeting schedule and minutes, and provides centralized tracking of all Measure DD projects.
Lake Merritt in the News

Two Oakland activists work to keep Lake Merritt safe, clean and accessible for everyone November 30, 2009, Oakland Tribune


Loving the Lake paving paradise May 27, 2007, San Francisco Chronicle


Lake Merritt project stalls March 15, 2007, San Francisco Chronicle


Lake Merritt face-lift gathering supporters May 4, 2006, San Francisco Chronicle


MAKE A SPLASH - Lake Merritt: Oakland treasure greets spring with an array of aquatic offerings, and is perfect for beginner windsurfers March 16, 2006, San Francisco Chronicle


Oakland's Rotary clubs mark anniversary by giving back February 25, 2005, Oakland Tribune


Lake Merritt overhaul is beginning to take shape March 26, 2004, Oakland Tribune


Lake Makeover: Plans for Oakland's 'jewel,' waterfront make ballot July 11, 2002, San Francisco Chronicle
Project Status Meter
Planning and design is nearing completion for many of the projects designated in the first round of bond sales, but still in the early stages for others. There will be a total of three rounds of bond sales and project implementation will happen over the 15 year bond cycle, with some projects delayed until later stages, as shown on the published project schedule.
Here is Waterfront Action's estimate of overall progress on the project for the first round of bond sales: